What are savings interest rates? | YBS
Find out more about savings interest rates including how they work and why they change
Whether you're saving for a big purchase, retirement or just a rainy day, there are many good reasons to put away your hard-earned cash. This guide explains the way interest rates work to help you understand how to make your money go further.
---
Interest rates explained
What are interest rates? Interest rates represent the cost of borrowing money, and are a percentage of the amount you borrow or save.
The interest rate on money you borrow is charged by the lender for the use of its money. Since banks and building societies also borrow money from you (in the form of money you put into a savings account), they will also pay you an interest rate.
Whether you want high or low interest rates depends on whether you're a borrower or a saver. On a mortgage, for example, you want low interest because you owe the lender the amount you borrowed and a percentage of the loan (the interest) as a charge. If you're a saver you want high interest on money your bank or building society is effectively borrowing from you. The higher the interest rate, the more you earn.
Do I pay tax on my savings?
Many people can earn some interest from their savings without paying tax. Interest is paid gross, i.e. without tax being taken off on all our savings accounts, apart from ISA accounts which pay tax-free interest.
Allowances for earning interest before you have to pay tax on it include:
These allowances renew each tax year. How much you get depends on your other income. The tax year runs from 6 April to 5 April the following year.
For further information on tax on savings and your allowances please visit the Government website .
Make your money go further:
Interest jargon explained
Once you've understood the basics of how savings interest works, there are other terms you may encounter
AER
AER stands for Annual Equivalent Rate and shows what the interest rate would be if interest was paid and added each year. This will enable you to compare more easily the return you can expect to receive from your savings over time.
Gross interest
Gross interest is the amount earned before tax is applied.
How interest rates are set
The Bank of England's Monetary Policy Committee (MPC) usually meets eight times a year to determine the Bank Rate, otherwise known as the base rate.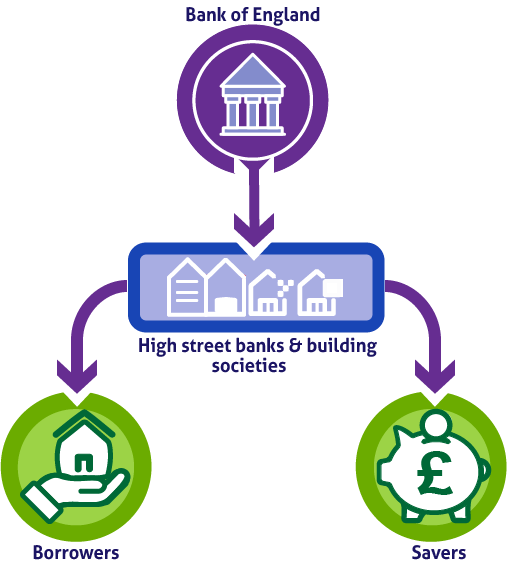 This affects the whole UK economy and has a significant influence on the rates which are offered. However, the base rate is only one of the factors influencing the rates offered on savings accounts. Others include the strength of mortgage lending, the wider economic and political status and the regulatory requirements that financial institutions follow.
But in terms of working out how to calculate savings interest rates, there's more to it than simply watching the base rate rise and fall. Some of the factors that affect your savings interest rate include:
Explore our savings accounts for more details on withdrawal limits, minimum opening balances and additional information.
Why do interest rates change?
The Bank of England Base Rate, is used to keep inflation at target levels and make sure the economy grows in a sustainable way.
The Bank of England's base rate is used to keep inflation at target levels and make sure the economy grows sustainably. According to the Bank, setting the rate is an attempt 'to influence the overall level of activity in the economy in order to keep the demand for, and supply of, goods and services roughly in balance'. For example, following 'Black Wednesday' in 1992, the government increased the base rate from 10 to 12%, and then 15%, in an attempt to encourage investors to buy sterling. Low interest rates are designed to keep down the cost of borrowing, protect jobs and ensure those who are unemployed can still spend money on essentials. You can find out more at the Bank of England's website .
What is a good interest rate for savers?
Ideally, a good savings interest rate will be higher than the current rate of inflation [i]. But it will depend on how long you're willing to lock away your money for and whether you need instant access to your account.
Make your money go further: