Payments to your account | Payment Guidance | Help & Support | YBS
Payments into your account
Information on receiving payments into your YBS account
Receiving a payment
To make payments into your account from within the UK by CHAPS, Faster Payments or Standing Order, or for a Direct Debit payment from your Cash Transactor account:
Account name
Yorkshire Building Society account holder's name
Sort code
Use this sort code for all YBS accounts
60 – 92 – 04
(operated through one of our main bankers – NatWest Bank Plc)
Bank Account Number
The first 8 digits of your YBS account number
Reference or Roll number
The full 10 digits of your YBS account number (not required for direct debits)
Payment timescales
Faster payments
Where payments are sent by the Faster Payments service to your account, they may take up to 4 hours to be credited to your account.
Payments containing incorrect or missing information may take longer to process or may be returned to the sender if we cannot prove that they belong to you. Please ensure that the correct information is entered when sending a payment or when asking someone else to send a payment, to your account.
Cheques
You can pay a cheque into your YBS account at any branch or agency - however you should be aware that the terms & conditions of our online based accounts mean that we do not accept cheque deposits into these accounts.
Cheques should be made payable to the account holder and not to the Society.
Please note: if you wish to make a cash deposit to one of our agencies, please contact the agency beforehand.
Yorkshire Building Society savings accounts use the YBS clearing cycle timeline, as explained below.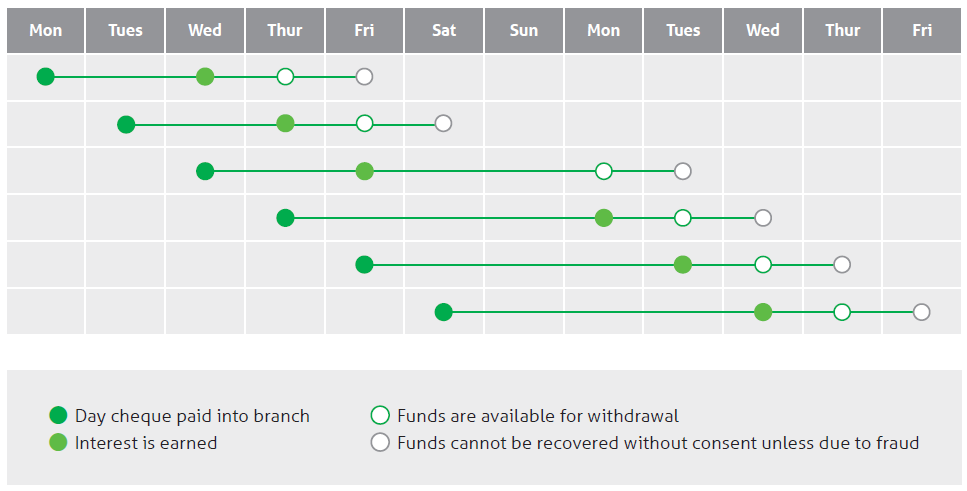 Timeline for a cheque paid into your account on Monday
| | | |
| --- | --- | --- |
| Monday | | The cheque is paid into the account |
| Tuesday | Working day 1 | The cycle starts on the first working day after the cheque is paid into your account. A working day is any day excluding a Saturday, Sunday or bank holiday in England and Wales. If a Saturday, the cycle will start on the next working day. |
| Wednesday | Working day 2 | Interest starts to be earned today. |
| Thursday | Working day 3 | You will be able to withdraw the money today. However the cheque could still be returned unpaid (bounced) until the end of working day 4. |
| Friday | Working day 4 | You can be sure the money is yours at the end of today. The money cannot be reclaimed without your consent (unless you are a knowing party to fraud). |

Online security
Report an online security issue using our form
Report a lost/stolen card
Call our helpline 24 hours a day, 7 days a week
Alternatively, you can visit your nearest branch or report it online