How much of my salary should I save? | 50-30-20 rule | YBS
How much of your salary you should save will depend on how much you earn and what you're saving for. As the cost of living remains high, it can be tricky to know how to manage your salary and build your savings at the same time.
The first step in learning how to save money is setting up a budget. A budget includes how much money you have, and what you plan to spend and save.

It's a good idea to check your income and outgoings often. That way, you know where your wage is going. If something changes, you can update your budget.

Use our budget calculator to work out how much you may have left to save.
A simple budget is the 50-30-20 rule. The 50-30-20 rule breaks down your earnings into three areas:
Essentials – the things you cannot do without.
Lifestyle – fun things that give you joy.
Planning ahead – savings for life events and the future.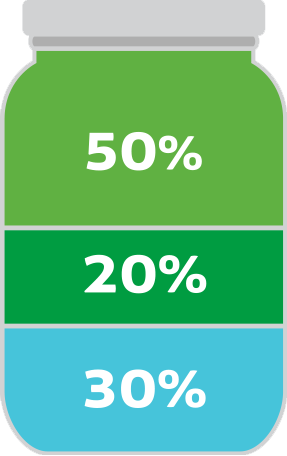 The 50%: Essentials
The essentials are the basics which you will always have to pay for:
Housing – rent or mortgage.
Bills – energy, council tax, internet
Monthly outgoings – commuting costs, childcare, the gym and anything else you have to pay for.
The idea behind 50-30-20 is that essentials make up half of your salary.

Of course, that may not be true. If you have an unusually large cost for an essential, like renting in London, it may come to more than half of your wage.

If this is the case, don't worry. The 50-30-20 rule is a guide, so if yours is closer to 60, 30, 10, that works too.
The 30%: Lifestyle
The fun stuff! This is the money you spend on enjoying yourself, your hobbies and your lifestyle.

Most common lifestyle purchases include:
Subscriptions – TV/music streaming, food, drink, magazines.
Hobbies – gigs, sports, football, model trains, stamps – whatever you're passionate about.
Eating and drinking out – socialising and going out.
Shopping – a new outfit, books, video games – whatever you treat yourself with.
The 20%: Planning ahead
The last 20% is the money you put aside in savings. It can be for long-term goals, or short-term goals.

Long-term goals may be:
Your pension or retirement.
A house deposit.
A wedding.
Short-term goals could be for expensive items that may not take as long to save for, like a car or a holiday.
Whatever you're saving for, you can use our savings goal calculator to see how much you'll need to save and how long it will take you to get there.
As well as saving for the future, it can be a good idea to put aside an emergency fund. This is a pot of money you can use when you have a cost you didn't expect.

For example:
A broken boiler.
Car repairs.
A new fridge, freezer or oven.
Plumbing issues.
It may also be a good idea to save up a few months' worth of expenses, so you have a buffer if you suddenly couldn't work.
Saving money may seem daunting. Whether it's saving on bills, food or travel, small tweaks can make your money go further.
Try a no-spend weekend – go for a walk, plan a movie night or relaxing without spending much can give you a little more to save.
Save when you get paid – transfer the money you want to save on payday, that way, you won't miss it.
Swap supermarkets – You may be able to spend less on food by swapping to a cheaper supermarket.
Wait before you buy – Try to wait a few weeks before buying something. You may decide you don't need it after all.
Pay off debt – credit card or loan repayments can make it hard to save. Try to settle your debts quickly. That way you'll pay less interest.
The content on this page is for reference and does not constitute financial advice.
For impartial financial advice, try
MoneyHelper
.