Floods and preparing your home | Life moments Guides | YBS
Flooding in Britain is becoming more frequent, with some towns and cities experiencing floods for the first time in generations. With all the misery and cost it brings, is it time to check your insurance policy and put plans in place in case the worst happens?
Not everyone realises they are at risk of flooding until it happens. Whether you're clued up on the weather risks for your area, or you haven't looked into the likelihood of floods one day affecting your home, there's something useful in this guide for you.
Are you at risk? It's easy to find out
You might be surprised to learn that even if you don't live close to water, surface water flooding might be an issue. This can be a real problem in urban areas where more hard surfaces mean water isn't soaked up. Simply when the drains can't work quickly enough to remove the water from a large downpour, there's a surface water flood.
Find out the risk for your current home or for properties in locations you're considering:
Properties at risk of flooding in England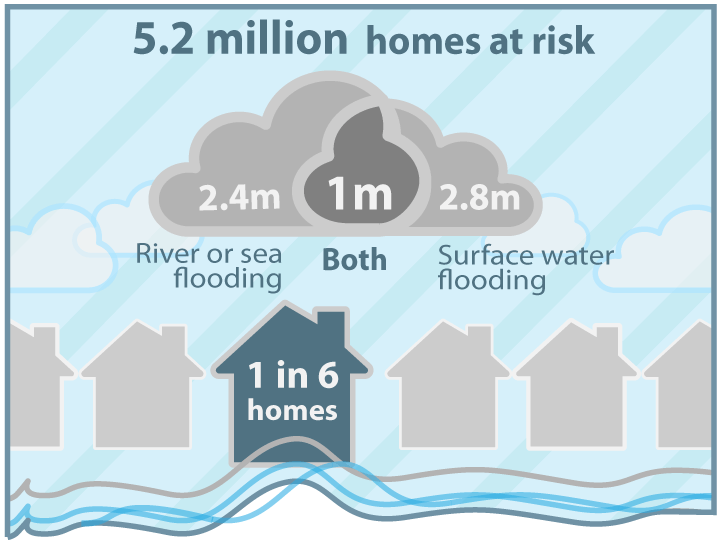 5.2 million homes at risk, 2.4m from river or sea flooding, 2.8m from surface water flooding and 1m at risk of both
These figures are from the latest report in 2009 by the Environment Agency and although this might sound dated, it shows the problem is only getting worse with climate change. In a 2017 Climate Change Risk Assessment prepared for the UK Committee on Climate Change, it's clear that increased flooding and damage from flooding is expected, despite steps being taken to reduce the impact.
So if you're not sure about your long term risk of flooding whatever the source, it's a good idea to find out, just in case. And think about flood risk when looking for a new home too.
Recovery from flood – the facts
When flooding hits, it's usually in the news – and that means the story is here today and gone tomorrow - or thereabouts. But what of those actually affected by flooding? You might feel safe in the knowledge that you're protected by your home insurance, but it's a far more lengthy process to recover from a flood than to replace a written off car for example.
The Association of British Insurers (ABI) quotes the following information from the floods of 2013 / 2014:
60% of flood claims were fully settled within six months
75% - were complete within nine months
100% (almost) - were home after 12 months
The ABI's website
has information and a helpful guide on what you should expect from your insurer following a flood.
Protecting your home against flood
If flooding is quite likely in your area or you've experienced it before, a flood survey on your property is a good idea. Deciding the right measures to take without expert guidance can be tricky.
For example, sometimes the best advice is not to keep water out of your property as high water levels can put pressure on external walls and cause them to collapse. In this case, making your property resilient – so it deals better with flooding might be the best option. There will be costs involved, but if you consider the damage to your house and loss of items of sentimental value – as well as the painful process of recovery, this could be money well spent.
Both the Association of British Insurers and the National Flood Forum recommend that you get a flood risk report from an independent adviser. Do check that their report follows the standards set out by the Environment Agency. If you'd like some guidance of where to start, the National Flood Forum website has a Property Protection Advisor tool
that will give you a quick view of the options available and likely costs.
Are you insured and do you have the right cover?
According to the ABI, one in four UK homes don't have home insurance (either buildings, contents or both). With structural repairs costing tens of thousands and the need to replace damaged possessions likely to cost thousands too, can you really afford to be without insurance if you're at risk of flooding?
Additionally, with insurance, you get the benefit of expert help from your insurer if you do need to claim. They will do the hard work of bringing in contractors to do the drying out and repair working, helping to take the strain.
Making sure you get the insurance you need
There was a time when it was more difficult for people with at-risk properties to get home insurance at all or at a reasonable cost. Now through a scheme called "Flood Re", more providers are able to offer insurance for houses at risk. Where do you start?
Go direct - Price comparison websites might not be the best place to start looking for an insurer as they often don't cater for flood risk customers. Try contacting insurance companies directly, or try an insurance broker through the British Insurance Broker's Association.
Enough is enough - Check that your home insurance covers the amount it would need to in a worst case scenario. It's easy to forget things like rugs and carpets, so have a good look around your home and make a list.
Playing catch up -If you've found out you're at risk of flood after you've taken out a policy, make sure you tell your insurance company. If you don't, it could invalidate a future claim. If in doubt, give them a call.
When floods are likely or if the worst happens
For some simple advice on how to prepare for the possibility of flood – and what to do if you are flooded, visit our Flood Advice page.
Checklist to get you started -
Check if you're at risk
Make a plan to protect your home
Check you're insured
We know this is a bit of a scary subject, but hopefully, we've given you some helpful tips you can take action on. While it's at the forefront of your mind, why not take a minute to jot down your personal checklist of things to look into or do next? It will stop being a niggle in the back of your mind and you can make a start on becoming more flood aware and protect your home, possessions and your family.

Share