Garden makeovers on a budget | Homeowners Guides | YBS
Making the most of your outdoor space doesn't have to cost the earth. We've got some cheap and effective ideas to help with your garden makeover. Many of these tips are things you can do yourself.
Start by tidying up and see what you've got
Reclaim the edges of your lawn, trim back your shrubs and weed the borders. If there are any kids toys around or rubbish, clear it all away. Your garden will look better already and give you a clear idea of the area you've got to work with. You might get some nice surprises too, like discovering a plant you'd forgotten about, an old statue to make a feature of or some spare plant pots.
Decide what you want from your garden
Think about what the priority is for you in your new garden. Is it a seating area to relax in, space for the kids to play, a vegetable patch to grow your own food? Perhaps just a bit more colour when you look out the window. When you know what you're looking for you can sketch out a design, or go online for a free design tool.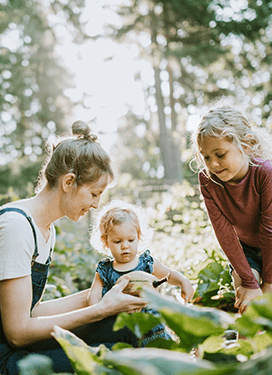 Make your garden look bigger with clever design
A small garden makeover might be focused on making your garden look bigger.
Try defining the different areas using borders, walls, trellises or a change in levels.
Laying slabs on a diagonal to create a diamond shape helps to create the illusion of space, as can softening the edges of the garden with climbing plants and using potted plants rather than borders.
Mirrors aren't just for indoors either, they have the same effect of making the space look bigger in the garden too.
Add colour to your garden
An obvious way to add colour in your garden is by adding plants. Plan to have a selection of plants that bloom at different times of the year and evergreen shrubs with different coloured foliage that will be there throughout. And it's not just plants that can add colour either. You can paint your walls, fences and even your plant pots. Old tiles or CDs can be used to make a mosaic. Gravel and stones come in all sorts of colours and can be used to create different areas.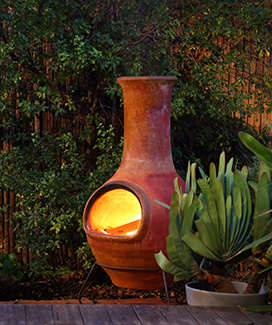 Add a feature
If you want something big to give character to your garden, you could include a pond, a water fountain or statue. But a feature doesn't have to be anything large - perhaps you'd just like a bird house or a fire pit, or why not make a feature section out of your seating area using lighting or plants.

Light it up
A quick and easy way to add style to your garden on a summer's evening is to install some solar powered lights. Whether it's torches to light up a path, fairy lights in a tree or strip lighting around your decking, they're relatively inexpensive and easy to get hold of.
---
Invest in storage space
Secure storage is great for keeping valuable tools and bikes etc. safe, as well as keeping the garden looking tidy. If you don't have the room or budget for a shed, consider a garden storage box instead.
TIP: If you do have a lot of garden tools and equipment and you are storing these in the garden do ensure that your home insurance covers them.
Start a vegetable patch
If you're starting a vegetable patch from scratch, first pick an area of your garden that gets plenty of sun and clear the space. Start with easy to grow varieties such as potatoes, lettuces, beans and courgettes. Don't worry if you don't have much space, you can grow tomatoes and potatoes in bags, and herbs and lettuces in pots. Micro greens and beansprouts can be grown on a windowsill.
How much does a garden makeover cost?
It really depends on your garden, how much you do and what supplies you already have. To keep costs down, here are our money-saving tips for the garden.
Split perennials, take cuttings and collect seeds
Propagate your existing plants by taking cuttings or collecting seeds from your favourites to grow more of what you love. When you do buy new plants, go for perennials which will keep growing back rather than buying annuals each year. As perennials grow, you can split them and spread them out across the garden.
Recycle, re-use, repurpose
Get creative with what you already have. An old coffee table could be your new bench; an old book shelf could be stacked with pots of herbs. If you're lacking in plant pots, what about old pots, buckets, tins, broken mugs, or even old wellies instead? Plastic bottles can be made into birdfeeders.
Gravel rather than paving
Gravel is more affordable than paving and easier to do as DIY. Or try some stepping stones and bark chippings. Be sure to lay a permeable membrane or weed net underneath to stop the weeds growing through.
Shop around
As with any other purchase, it's always worth shopping around online to see what deals you can get. Have a look at any second hand options and don't forget to factor in delivery costs.
Get a water butt
A water butt collects rain water and can be attached to your gutters. There are fewer chemicals in rain water so it will be kinder to your garden, and if you're on a water meter, it will help to keep your bills down too.
Make your own compost
To save on future bags of compost, and do your bit for the environment, you could start your own compost. You can buy a compost bin or build your own. Grass clippings, leaves, vegetable peelings and tea bags can all go in. Most organic matter can go in but be sure to read up on what can't go in such as meat or dairy.
Re-grow food scraps
Some food scraps will re-grow into new vegetables that you can add to your veg patch such as onions, garlic, lettuce and herbs.
No garden? No problem
If you've got a small yard
A few pot plants and a bird feeder can make all the difference and bring some nature into your life. Get creative with your pots, old containers and even wellies can be re-purposed and add some original style. Make the most of your walls to leave floor space by adding shelves, growing creepers up the side or hanging baskets.
No yard?
Then bring the outdoors in. Pop some living herbs on your kitchen windowsill, add a few pot plants around the house. You can even grow your own food indoors. Tomatoes, peppers and salad leaves grow well without taking up too much space. If you're looking for more low maintenance plants, succulents and cacti are good choices (but not to eat!)