Garden renovations to help sell your home | Homeowners Guides | YBS
If you're looking to sell your home it's unlikely you're going to want to spend money on renovating your garden however an unkempt garden can, of course, be a deterrent to a sale and a well-kept garden can even add some value. If you are looking to raise 'kerb appeal' making your gardens look nice quickly and easily doesn't have to be expensive or difficult to maintain.
A good first impression is key! So first consider looking at the front garden and/or driveway since that's the first thing potential buyers see when they arrive at the property. Once you're happy with your 'curb appeal' you can move on to other outdoor spaces.
---
What to do - tips
Tidy up and 'spruce'
Many people want gardens to be tidy and feel spacious so start by trimming any border hedges and pruning trees, cut back any overhanging plants and rake up any leaves or twigs. Make sure you mow any lawns, get rid of any weeds and clean patios and driveways to keep them looking tidy.
Paint is important. Sprucing up your fencing or outbuildings with a lick of paint or wood stain can easily make them look more appealing.

Hide the bits you don't want people to see at first glance.
If you store bikes or old household items outside or have an area for the bins and you don't have storage consider adding a trellis divider. These don't have to be expensive and can hide the unsightly parts of the garden.
Think about adding lighting.
Many house viewings happen late afternoon or early evening and if it's getting dark some lighting in the garden can make a difference. There are plenty of inexpensive outdoor lighting options available; many solar powered which will charge during the day – you could take these with you when you move too.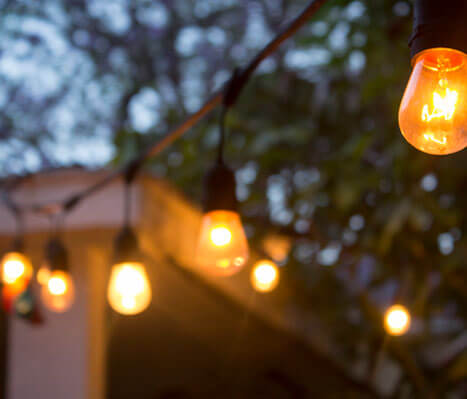 Make the most of the space that you have
Just clearing back overgrowth can make a real difference and if you have a smaller garden it can be made to look larger just by reducing clutter.
Larger gardens can be separated into sections just by creating shapes with a bit of edging, adding large pots and perhaps some taller plants. Not being able to see the whole garden in one go creates intrigue (which we certainly want from a potential buyer) and might even create the illusion of more space.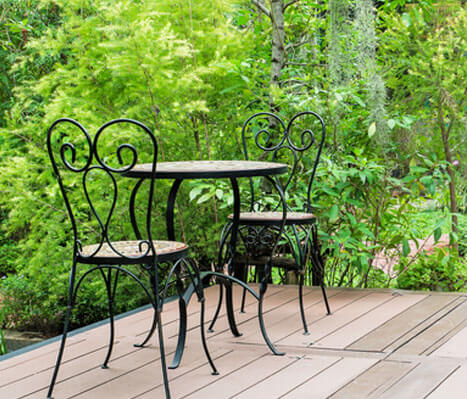 Consider adding furniture.
If you don't already have any, a basic table and chairs set will do – but people like to envision themselves sitting in the garden and that can be hard to do with nowhere to sit.
Add colour
Think about adding something that will brighten up the space even when it's dark and raining – we can't control the weather and not all viewings are going to happen in bright sunshine! Think about investing in some artificial plants or flowers and some bright plant pots – that way they'll never lose their colour and you can take them with you when you move!